 NNIA 2023 Digital Program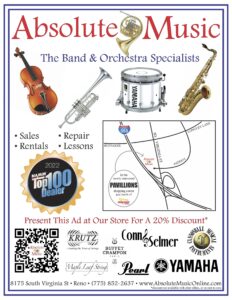 GUARD
Carson City HS Guard
"Between Conversations"
Directors: Nick Jacques, Emma Baglin
Staff: Luis Cabrera
Churchill County HS Guard
"Out Of Wonderland"
Director: C.J. Sibley
Staff: Scott Parker
Damonte Ranch HS Guard
"Winter"
Directors: Christi Blahnik, Daniel Miller, Javier Sosa
Staff: Jane Strawn, Jack Pursifull
Dayton HS Guard
"False Confidence"
Director: Laura Austin
Depoali MS Guard
"Stand by Me"
Director: Daniel Barthel
Staff: Lindsey Horan, Matthew Ortega, Dan Miller
Douglas HS Guard
"CULT"
Directors: Jordan Martz, Mark Porter
Elko HS Guard
"Inner child"
Directors: Emily Johnson, Kristen Gaul
Fernley HS Guard
"Beyond"
Director: Amber Vedova
Staff: Stacy Skubinna, Alexis Funcannon
McQueen HS Guard
"Groovy"
Director: Nathan Williams
Staff: Geoff  Green, and Gracie Krutz
North Valleys HS Guard
"The Muses"
Director: Greg Canfield
Staff: Amber Hamilton, Saariya Malik
Spanish Springs HS Guard
"Somewhere Only We Know"
Directors: Quinlan Skinner David Morris
Staff: Denelle Padgett, Kyndra Martinez, Jennifer Martin
University of Reno Guard
"The Beat"
Director: Kimberly Hines
Staff: Daniel Miller, Javier Sosa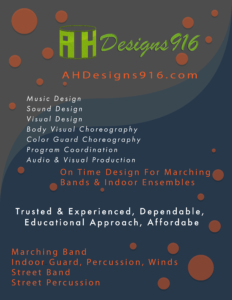 PERCUSSION
Carson City HS Percussion
"Rhapsody in Blue"
Director: Nick Jacques
Staff: Margie McWilliams, Emma Brown, Lewis Martin
Damonte Ranch HS Percussion
"Tick Tock Hypnotic"
Directors: Christi Blahnik, Kyle Zive
Staff: Casey Smith, Steve Sperber, Alen Woo, Nathan Tilley, Katherine May, Sierra Applebee
Damonte Ranch HS JV Percussion
"Taiko À La Tom-Tom"
Director: Christi Blahnik
Staff: Kyle Zive, Alen Woo
Depoali MS Percussion
"A Space Mission"
Director: Dan Barthel
Staff: Kyle Zive, Alen Woo, Sierra Applebee
Desert Skies MS Percussion
"Multitasker"
Director: Timothy Wood
Staff: Steven Potter
McQueen HS Percussion
"In Search of Life"
Director: Nathan Williams
Staff: Colton Weaver, Steven Potter, Jessi Calvo, Timothy Chatwood
Sky Ranch MS Percussion
"Old McDonald Had a Drumline"
Director: Patricia Hudson and Todd Hudson
Staff: Terry Marshall, Emily Hudson, Jeff Shoemaker, Shelly Witherill, Ashley Stockton, Katie Belisle, Logan Mendoza
WINDS
Edward C. Reed High School Winds
"The Hot Seat"
Director: Ron Eichstedt
Staff: Justin Longroy, Sierra Appleby, JJ Hill, Kayla Thompson, Mia Hibler, Jeffrey Richard, Rezner Weist, Casey Lamb, Hunter Harkleroad Thank you to all our show hosts and their music boosters for helping us return for the 2022 season: Edward C Reed HS (Ron Eichstedt), Damonte Ranch HS (Christi Blahnik), Depoali MS (Dan Barthel), and Sky Ranch MS (Patti Hudson)! Thank you to our volunteers: Dan Marran & Tim Wood (announcers), Paula & Duane Wyatt (admission), and Aaron Hines (coordinator)! Thank you to our show admin Spencer Hannibal-Smith and Natalia Tomasello! And lastly to all the adjudicators who traveled to our area to provide their expertise and feedback to our ensembles! We look forward to a fantastic 2023! Tentative Schedule July 15-17
Percussion/Guard 8am-4pm, 8am-4pm, 9am-5pm
Leadership 4:30-8:30pm, 4:30-8:30pm, 9am-5pm
Drum Major/Field Conductor 12-8:30pm, 12-8:30pm, 9am-5pm
CONTACT US for complete information on how to sign-up.